Six months ago I wanted to plan a fundraising dinner and auction, but Cecropia Strong would need volunteers, and a lot of them! That was also the month I started returning to the 8am church service at Marblehead Light (in the summer months it's held outside at the lighthouse, but I hadn't been to it in five years, since I had my stroke.)
The two events became intertwined and I would ply my marketing skills on fellow church members throughout the summer, as I worked through my plans for my gala fundraiser. One church member, Barbara Day, became our Chief Volunteer! (She was our only volunteer, so I decided she was chief!) Here she answers my questions regarding her volunteer efforts.
How did you know Julie prior to her founding Cecropia Strong?
My husband and I are members of Old North Church in Marblehead, MA.  Years past, Julie would play her bagpipes before our outdoor summer services at Chandler Hovey Park.  After Julie had her stroke, our church organized a group of volunteers to prepare and deliver meals to her apartment. That's when I learned  more about her stroke and I could see how much it had changed her life.  I was amazed at the progress she was making with the help of intensive therapy.
What most interested you in this charity? (You were one of first ten to give money to Cecropia Strong!)
A few years ago, another woman I knew had a very severe stroke. As with Julie, it's shocking to see how this type of event can immediately alter the life of someone who is so active and vibrant. Ginny was confined to a wheelchair and she never really regained her ability to speak clearly. Another friend and I would visit Ginny at the nursing home and occasionally take her out to lunch.  
What drew you to say "Yes," when asked if you'd help organize the gala dinner and auctions?
When I learned about Cecropia Strong and realized what Julie had already accomplished with her new nonprofit, it was an easy decision to want to help.   Julie was determined to make the gala a success and she already had SO MANY good ideas and plans. Clearly, she would need a team of helpers and I had experience with fundraising events in the past. The more we worked together, the more I learned about the Cecropia Strong board members who were, of course, also contributing their time and efforts to make this a success.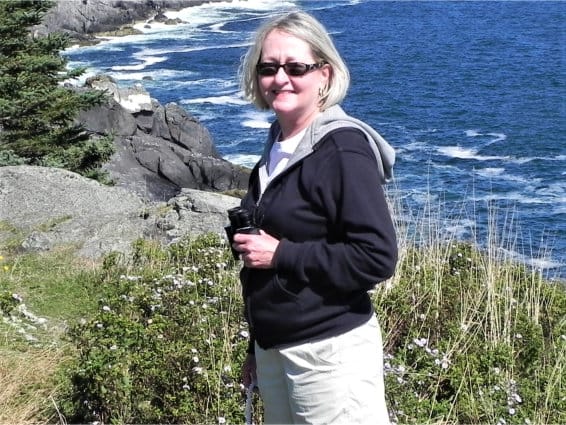 Barbara exploring Maine's summer birds on a vacation.

What did you enjoy most about getting ready for and running the gala?
It was fun working with Julie and getting to know her better. We brainstormed through some ideas for both the Silent and Live Auctions and worked on promoting the event in our community. I learned that her friend Catherine Belden (from Medfield, MA) was putting together an amazing array of gifts for the Silent Auction. It was fun to finally meet Catherine and the board members prior to AND on the day of the event. Everyone worked well together and we ALL realized that Julie really had performed a "gala miracle" in a very short period of time.    The two auctioneers were terrific (friends of Julie's), and the restaurant staff did a great job. A good time was had by all and I'm hoping it will become an annual event!
Do you have a particular Cecropia Strong program(s) that you feel especially committed to?
Spaulding Rehab Hospital Gifts of Hope
Intercollegiate Assistive Technology Hackathons
Returning Stroke Patients to Driving (tentative)
Scholarships to Spaulding-Institute of Health Professions Comprehensive Aphasia Program (S-IHPs CAP) (tentative)
The willingness to help anyone impacted by disabilities
Anything else that you'd like to add about Cecropia Strong's mission (where else would you like to see us go?)
I think it would be helpful to spread the word about Cecropia Strong to some of our local retirement homes and nursing homes. It's very possible there are people there with disabilities and the Cecropia Strong programs could be beneficial to them and their families. Also, the more our community learns about this nonprofit, the more interest there will be in the next Cecropia Strong Gala!