Julie Hahnke, Marblehead, MA President and Founder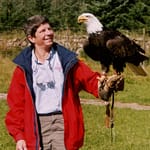 As a Dartmouth graduate, I've studied information technology, marketing, and business management, with an eye for how underlying frameworks weave together. As an author I've looked at motivations, wonder, and disillusionment to explain why we do what we do. And as a piper I've played for the honor and dignity that we aspire to in our lives. Yet as a stroke survivor, I'm simply trying to find my way back…
Cecropia Strong's goal is to make living with disabilities bearable. We give hope to the newly-disabled in the hospital; we enable creative innovations that allow unlooked-for achievements; we help folks drive again; we fight aphasia; and we aid in Therapeutic Horseback Riding. We have your back!
Nancy Phillips Marshall, San Diego, CA Treasurer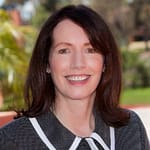 For the past 12 years I have been a Credit Risk Auditor for MUFG Union Bank, N.A. headquartered in San Francisco, CA and owned by the global financial leader, Mitsubishi USFJ Financial Group. I have previous credit risk and mortgage underwriting experience with JP Morgan Chase.  I also served as treasurer for the Pierce-Waller HOA in San Francisco.  I began my financial career at Bank of Boston-Essex (now Bank of America) and Marblehead Savings Bank
I was born and raised in Marblehead, MA, and my father, Charles Phillips, still calls Marblehead home.  My father has been a long-time friend of Cecropia Strong's founder, Julie Hahnke.  I truly felt a call to service when Julie contacted me about joining Cecropia Strong.  Her contributions as an author prior to her stroke were so impactful and her journey after her stroke has been nothing short of awesome. 
I am committed to projects that restore the independence of individuals impacted by disabling incidents. 
I am an avid sailor in San Diego, CA, where disabled sailing regattas are held. I would love to support similar programs in Marblehead, MA, where many world-class sailors got their start.
Jennifer C. Buxton, MA, OTR/L, ATP, MAT, Waltham, MA Secretary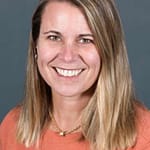 I am an occupational therapist and assistive technology professional within the Augmentative Communication Program (ACP) at Boston Children's Hospital. I assess and implement alternative access technologies for augmentative communication solutions, with focus on alternative computer, environmental and educational technologies. I also work in private consulting practice, Assistive Technology Partners, providing AT Assessment & Implementation services to individuals and school systems. I am the Program Coordinator for the Assistive Technology Certificate Program at Tufts University which was established in 2020, teaching multiple AT related courses to OT and engineering students for about 20 years.
As the Program Coordinator of the AT Certificate Program in the OT Department at Tufts University I work with people with disabilities in the Greater Boston area who are looking for student groups to help them create assistive devices. I met Julie when a team of my students from Tufts (OT and engineering students) participated in the annual ATHack at MIT. They worked with Julie to create a 3D printed adaption to allow her to play the bag pipes with one hand. Seeing the impact that student created assistive devices can have on the lives of people with disabilities has been very rewarding and I am interested in spreading the word and connecting the students in the Greater Boston area to meaningful civic projects that help the disability community. The Intercollegiate AT Hackathons hopes to help bridge these resources to the people who need them the most.
In addition I am a wife, mother of 3 teenagers, avid skier and outdoor enthusiast.
Lisa Tabor Connor, PhD, OTR/L, St. Louis, MO
I am an occupational therapist and experimental psychologist by training. I am currently the Associate Dean for Occupational Therapy and Professor of Occupational Therapy and Neurology at Washington University School of Medicine. My research focuses on understanding barriers and facilitators to resuming activities that people need and want to do after stroke so that we can design better interventions for improving living in the community post stroke.
I am very committed the mission of Cecropia Strong. I was also sure that Julie Hahnke, our President, had the drive, skill, and commitment to make this organization successful.
I am dedicated to all of our programs, but I am especially committed to the success of our program providing grants to people attending the comprehensive aphasia program (jointly conducted by the MGH Institute of Health Professions and Spaulding Rehabilitation Hospital: S-IHP's CAP). I have been involved with this program since its inception and have seen the benefits to the participants. I have even conducted research demonstrating that this program is successful.
Jeanne M. Sparrow, Needham, MA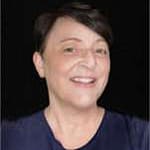 I am privileged to work for the Nurses' Health Study (NHS) as the Director of Data Management and Programming (in the Channing Division of Network Medicine) at Brigham and Women's Hospital in Boston.  The NHS, a long-term investigation into risk factors of chronic disease in women, has played an instrumental role in shaping public health recommendations especially related to nutrition and exercise.  Cardiovascular diseases, including stroke, are a major research area within the NHS and we trust that our work will identify ways to reduce the incidence of these diseases.  
As a long-time friend of Julie's, I am honored to bring my energy and skill to the board of Cecropia Strong.  Having witnessed Julie's courage in her own fight, it is impossible to not be inspired by Julie's determination to provide a hopeful path forward for individuals and families affected by stroke. 
There are so many exciting initiatives in the works including the Assistive Technology Hackathons and the Return to Driving program.  I look forward to the continuing opportunity to make a difference in the lives of people by promoting and expanding the work of Cecropia Strong.  
In my "free" time, I am an active singer and board member of Cantilena, a women's chorale based in Arlington, Massachusetts.  Together with my husband, we are the proud parents of four busy college students.
Susan Fasoli, OT, ScD, Salem, MA
I retired from my role as a Professor of Occupational Therapy at the MGH Institute of Health Professions in May 2023. I have held a variety of clinical, academic, and research positions during my OT career, and have worked closely with engineers and neuroscientists on the design and implementation of robot-assisted therapy for individuals with arm and hand impairments due to stroke. My clinical background is primarily in acute care and inpatient rehabilitation settings, with an emphasis on optimizing movement abilities and functional independence of persons with neurological diagnoses.
I met Julie several years ago when she participated in a robot-assisted therapy research study I was leading at Spaulding Rehabilitation Hospital. I admire her strong work ethic and determination. Julie has sought opportunities to educate engineering & health professions students in the Boston area about the impact of stroke. I've seen her vision for Cecropia Strong lead to the growth of resources that will allow stroke survivors to explore and engage in valued life activities.
While I am committed to all of Cecropia Strong's current programs, I'm especially drawn to the Therapeutic Riding Grants.  I have fond memories of hanging around horse barns while my daughter learned to ride when she was young and know that horseback riding is a wonderful experience for all.
In my free time, I enjoy traveling with my spouse Lee, kayaking, spending time in nature, and visiting our grown kids in Idaho and San Diego. I am happy to join Cecropia's Board, as I believe in its mission and look forward to working with others to ensure its success.