Brick walls are there for a reason: they let you prove how badly you want something. When you butt up against one, you find a way to move beyond it. This is a lesson I learned after my stroke. And no one teaches it better than Kendall Gretsch. A Washington University student (in St. Louis, MO), she graduated in biomedical engineering at the McKelvey School of Engineering in 2014. She teaches us that you can overcome any obstacle, if you desire it badly enough.
Kendall was born with spina bifida and as a result, she has poorly developed nerves and muscles in her lower body. On crutches, wearing leg braces, she's always been active, but lacked any access to adaptive sports…until college. In her sophomore year she heard of a fellow student who was training for a swimming spot at the Paralympics. 
"Oh," she said. "Maybe I can do that!" 
Within a month, she signed up for the Dare2tri Paratriathlon Camp—and that was all she needed. Dare2tri provided her all the adaptive equipment she required (the hand cycle and the racing chair, so she didn't have to purchase them) and gave her the coaching to set her on her path.
Have Adaptability In Your Mindset
Women's sports typically lag behind men's, and paralympic sports are even worse. Kendall wanted to compete in the 2016 Summer Paralympics at Rio de Janeiro, but they didn't include the paratriathlon in those summer games. 
"Growing up with a disability, you have to be a little gutsy", Kendall reflects. "That really helps as an athlete. Having that adaptability in your mindset, and a willingness to figure things out and to problem-solve." 
That mindset gave Gretsch the ability to overcome. So, following the games in Rio, she looked for a winter sport in which to crosstrain. She took up Nordic skiing.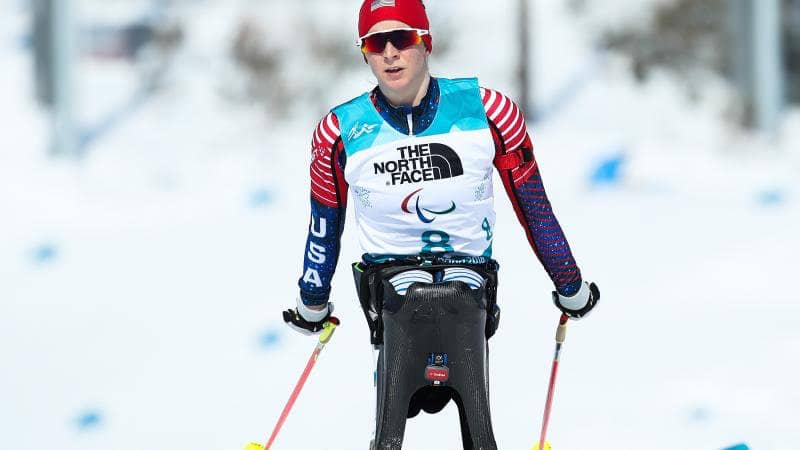 She can overcome anything!
The 2018 Paralympic Winter Games in PyeongChang, South Korea came along and Kendall headed there for her Paralympic debut. She was competing in both the 6K biathlon and 12K cross-country event. In two consecutive days she won two gold medals!
Three-and-a-half years later, the 2020 Tokyo Summer Paralympics (held in September 2021) did have the paratriathlon as an event. Kendall was there. She won the gold medal, but the manner in which she did must be seen to be believed!
And now Kendall Gretsch will go to Beijing. I'll certainly be rooting her on, as she tries to add two more medals to her growing hoard—you should follow her too!