Cecropia Strong, Inc and the Central Mass Safety Council (CMSC) announce a grant program, for individuals with financial need, to gain the training necessary to resume driving after a stroke.
Getting Your License Back, Post-Stroke, is Expensive
One of the most daunting goals for those who have experienced a stroke with hemiparesis is how to get back to driving safely. One of the obstacles is the expensive cost. No insurance covers this. All told, the process of being evaluated, training on the adaptive equipment, driver rehabilitation training, the passing of the RMV's Competency Exam (the equivalent of passing your driver's test), and having the adaptive equipment installed by a reputable mobility equipment dealer will cost close to $5,000, and possibly more.
The Process For Driving Rehab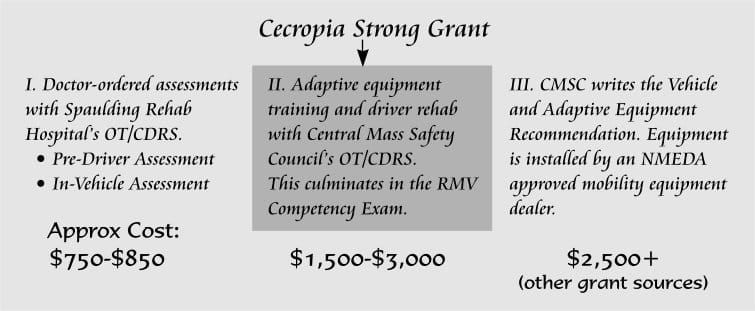 Cecropia Strong and CMSC will Help!
CMSC will provide $500 and Cecropia Strong will provide $500 toward the person's adaptive equipment training and driver rehabilitation. When the individual demonstrates potential to return to drive with adaptive equipment (following Step 1), and they request financial assistance, CMSC will screen them to determine eligibility for this grant. 
Had a stroke with hemiparesis (an arm, leg, or arm/leg affected);
Can demonstrate financial need;
Has taken the Pre-Driver Assessment (PDA) and In-Vehicle Assessment (IVA) at Spaulding Rehabilitation Hospital (Step 1) and demonstrates a reasonable potential for passing their RMV Competency Exam (Step 2);
Has a motor vehicle in reasonable shape that can receive the necessary adaptive equipment;
Shows the willingness to have adaptive equipment installed at a NMEDA approved mobility equipment dealer (Step 3).