Cecropia Strong is here to aid anyone suffering with disabilities. Have you ever wondered, "What is a disability, anyway?" "How do people become disabled?" or "How many people have disabilities?" "What can we do about this?" In this blogpost I will answer these questions and others that you may not have thought of.
A good place to start with defining disability is the Americans with Disabilities Act (ADA). The ADA provides a legal definition of disability, "A person who has a physical or mental impairment that substantially limits one or more major life activities." The Centers for Disease Control (CDC) provides a broader definition, "A disability is any condition of the body or mind (impairment) that makes it more difficult for the person with the condition to do certain activities (activity limitation) and interact with the word around them (participation restriction)."
The CDC also provides a variety of ways that disability can affect a person's capabilities:
Older People Are More Prone To Disability
According to the World Health Organization, worldwide, more than 1 billion people experience some sort of disability (about 15% of the population) with 93 million children and 720 million adults experiencing significant difficulties in function due to their disability. Disability is a growing public health issue due to increases in chronic health conditions and demographic shifts in the population.
There is a worldwide rapid shift in the older adult population, with the number of people 60 years old or older expected to grow from 900 million people in 2015 to 2 billion people by 2050. That's a shift from 12% of the global population to 22%! Older adults experience conditions that produce disability at a greater rate than younger individuals such as heart attack, stroke, arthritis, diabetes, depressive disorders, dementia, vision loss, and hearing loss.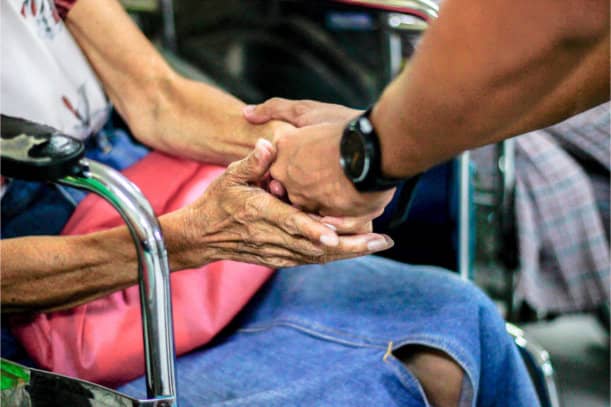 In the US, 26% of adults have some sort of disability and 40% of adults over 65 have something. Among adults, mobility disabilities (13.7% of adults) and cognitive disabilities (10.8% of adults) are most prevalent with disabilities in independent living (6.8%), hearing (5.9%), vision (4.6%) and self-care (3.7%) also contributing to the most common forms of disability.
Disability is a function of both a health condition that reduces a person's capabilities and the environments in which people live. Modifications of the environment or use of adaptive technologies can functionally reduce disability. For example, people with mobility impairments may benefit from wheelchair use and provision of curb cuts and accessible parking in their communities.

Access to rehabilitation, hearing aids, surgical interventions for cataracts, augmentative and adaptive communication systems, home modifications, and car adaptations all may reduce excess disability but cost substantial sums of money that may not be covered by health insurance.
Sounds like a grim picture with disability increasing due to demographic shifts and chronic diseases that produce disability such as diabetes, heart disease, stroke, dementia, and sensory loss on the rise. So where do we go from here? Clearly, reducing the rates and impact of disability will require a multi-pronged approach.
Global public health efforts are needed that focus on reducing the causes of diseases that produce disability. Reducing smoking, increasing access to healthy food, increasing physical activity, increasing access to healthcare and mental health services will all pay dividends by improving health of the global population.


Policy changes will need to be made for disabled people to have access to rehabilitation services, assistive devices, home and car modifications, hearing aids, etc. Many people have limited access to rehabilitation services due to limited insurance benefits or no access at all due to not having insurance or being covered by government programs that do not include rehabilitation benefits at all, such as Medicaid. Moreover, programs such as Medicare do not cover all of the services needed for people to function optimally in their home environments.

People with disabilities and their allies will need to lobby their representatives to bring about these much-needed policy changes to increase coverage for these services. Further, policy changes are called for to extend accessibility services to improve access to the community for people with disabilities.


More research is needed to enhance knowledge about how to best provide rehabilitation services – identify what rehabilitation interventions are best for people with different types of disability, when services are most beneficial for recovery, and how to give services for as long as necessary to produce optimal recovery. In addition, research will help develop new technologies to optimize function and monitor people in their natural environments.


Health-based national and international organizations can be the clearinghouses for information about disease, chronic conditions, and disability. Often it is difficult to find reliable, actionable information about your health condition. Organizations can focus their efforts on obtaining reliable information and disseminating it in ways that are accessible to the disability community.


Community-based organizations can continue to provide people with disabilities opportunities for advocacy. Moreover, community organizations can offer opportunities for participation in activities that are accessible, meaningful, and socially engaging to promote well-being for their members.
Through the mission of Cecropia Strong, Inc. we seek to provide information about disability and clinical research directed at improving the lives of people with disabilities, advocate for access to services, identify opportunities for community participation, and most importantly offer hope. We are looking forward to working for you and with you as we advance our mission.