Many of my friends on Facebook are noted authors and illustrators (I was a mid-grade and teen author before my stroke.) Earlier this month Joyce Sidman posted how she was traveling in Wisconsan (Joyce is from Minnesota) and stopped into a bookstore in Bayfield, WI named Apostle Isands Books. She was thrilled to find one of her latest books on display, and this store also had her dear friend's, Michelle Myers Lackner's, book, Finding Hope!
This piqued my curiosity, because I have an occupational therapist friend at Washington University in St. Louis who's interested in board books with a disabled protagonist. (She works with young children ages 1-3 years, and telling them a story with a disabled hero gets their interest!) This wasn't a board book, but it was close. A  baby bear separated from her Momma in the large, scary woods must surely fit the bill!
The North American Bear Center, in Minnesota, studies bears and thrilled their followers when their webcam recorded Hope's birth earlier that year. So the scientists were tracking Hope and her Momma when the bears got separated. (Unfortunately, Hope was too small for a radio collar, like her mother had.) The images were taken by the scientists, and only later did Michelle Myers Lackner decide to tell Hope's story.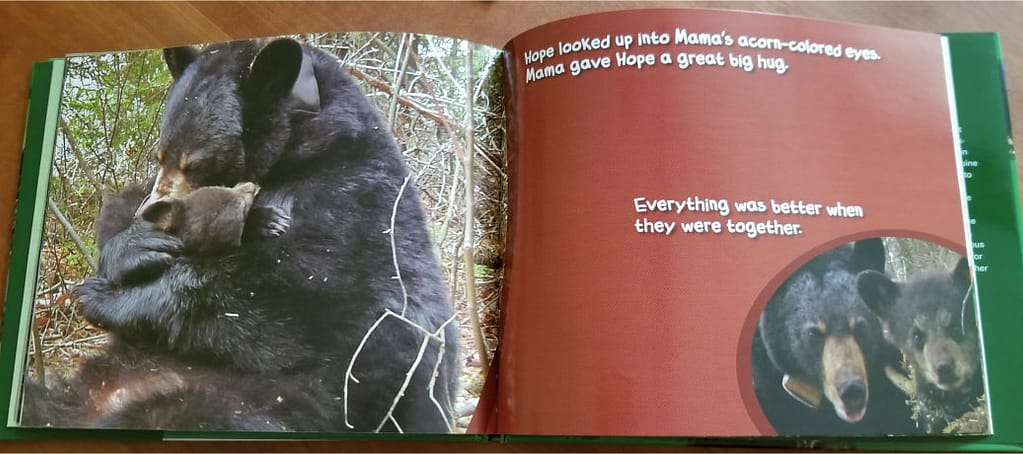 Momma and Hope are reunited in the end, and as the book says, "Everything was better when they were together!"
Catherine (my OT friend at Washington University) got her copy of "Finding Hope" and loved it! She's taped Cecropia Strong cards in the front cover so her students can share in our journey.