Maybe you have experienced a stroke.  A brain injury.  A spinal cord injury.  Or maybe you have a chronic condition which has caused you to put off driving.  Did you know that there are driving instructors with advanced training to assess whether adaptive equipment can help you?  A certified driver rehabilitation specialist (CDRS) is a licensed professional driving instructor who has passed a board certification exam and is able to evaluate and train individuals to return to driving. 
The possibilities are endless!
The process begins with a clinical assessment with an outpatient occupational therapist.  Several Boston area programs offer this service including Spaulding Rehabilitation Hospital, Newton-Wellesley Hospital, Emerson Hospital, and the Central Mass Safety Council.  These programs are not covered by health insurance, so financial planning is a must.  The cost for a complete two-phased evaluation is $500-$700 and is followed by a minimum of 3-5 hours of training (this is an additional cost) in an adapted sedan or van. 
When the time comes, the individual who is returning to driving with adaptive equipment must test with their state agency to have the equipment coded on their license.  The CDRS or a fellow driving instructor sponsors the individual for the test, usually in a vehicle owned by the driving school.  The entire process can take 3-6 months. And don't forget the cost of the equipment!
Q:  How do I know when it is time to begin this process?
A:  People with very acute injuries or illnesses may want to ask their physicians or therapists if they think they are ready.  The Commonwealth of MA requires that individuals go 6 months without a loss of consciousness before returning to driving (or provide physician documentation stating that they are no longer at risk for loss of consciousness.)  Blood pressure issues, vertigo, spasticity, skin integrity, and pain management issues may dictate a longer wait.  A physician's order is required by all MA programs for this reason.
Q:  My physician reported me to the RMV and my license is suspended.  Will I be able to reverse this process?
A:  Whether the license was suspended because of an Immediate Threat Medical Citation (RMV language) or an individual Voluntarily Surrendered the license, there is usually a process for having the license reinstated.  Once suspended, the candidate will likely be required to pass a competency driving exam with the state RMV/DMV.  An occupational therapist can provide the clinical evaluation and, if appropriate, help you to find a driving school program who will sponsor the individual for an Instructional Learner's Permit.  The candidate can then prepare for the test to reinstate the license.
Some patients/clients will learn that it is unsafe for them to return to driving through this process.  If driver rehabilitation is appropriate, the DRS will recommend it.  If a return to driving is not a realistic goal at this time, the OT and/or the CDRS will help the individual formulate more realistic transportation goals.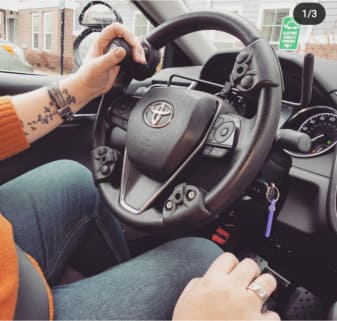 Q:  Can I just buy the required equipment off the internet and install it myself?
A:  Unfortunately, there are unethical groups selling equipment online that has not been crash-tested and has not been certified by NMEDA, the National Mobility Equipment Dealer's Association.  NMEDA-certified mechanics are the recommended professionals to install equipment that is crash-tested and meets safety standards.  If anyone driving the vehicle experiences an at-fault vehicle crash, the owner/Insurer of the vehicle will be held liable for any injury or damage caused.  A CDRS is likely to decline to work with an individual who is not committed to following best practices.
For more information on these guiding organizations, see the following:
ADED- The Association for Driver Rehabilitation Specialists:  www.aded.net  Find a driving evaluation program nearest you.  Search for Tip Sheets based on your symptoms or disability.
NMEDA- National Mobility Equipment Dealer's Association:  www.nmeda.org  Understand vehicle specifications and safety standards.  Find a mobility dealer to outfit your vehicle.