In February, we added a new gift—polar bear note cards—to the monthly loot we take down to Spaulding Rehab Hospital (SRH). I started taking the gifts to patients last July (see https://www.juliehahnke.com/2020/07/compassionate-gifts-give-more-than-you-know/) with a penguin, an arctic hare, and a koala. People donated through my site, and each month I'd pack up the stuffed animals and head down SRH with the current load.
By Christmas, we had so many donations I threw in some books for the younger patients. (Before my stroke I'd written two middle-grade novels.) The kids were pleased!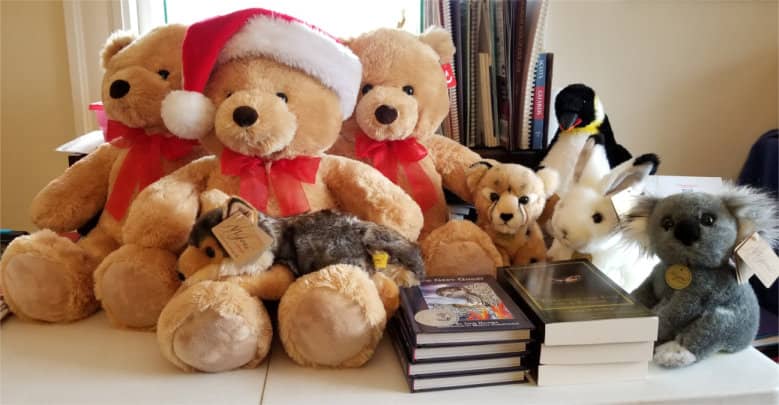 My mother paints, and she selects one of her paintings to send as a family Christmas card.  This last Christmas it was a mother polar bear and her cub: "A Mother's Love." With her permission, her printer reprinted the card without the Christmas message inside. This is now a gift, allowing the SRH patients to write to family and friends.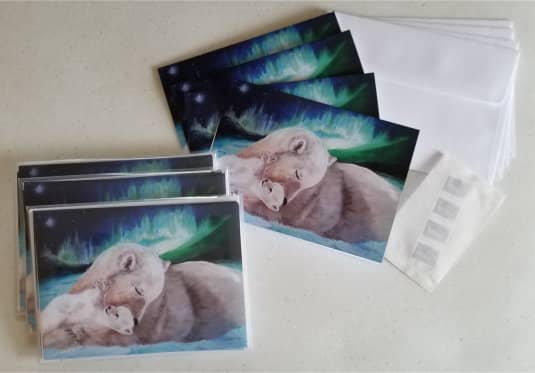 With the "birth" of Cecropia Strong, Inc., the charity is now organizing the collection of funds, the allocation of gifts, and the delivery to SRH. (I'm still the delivery guy!) And in just 10 months of operation, we're supplying gifts to nearly 10% of SRH's patients!
During this pandemic, the patients at Spaulding Rehab Hospital have been hit especially hard. You're not there because you want to be! The floor's names tell you all you need to hear: Spinal cord injury, Brain injury, Stroke, Amputations, Burns, and the Children's floor (which is a combination of the aforementioned plus congenital disabilities—ones you're born with.) And through this last year with COVID, the patients weren't allowed visitors, at times not even family!
So step up and give support. Donate to Cecropia Strong, Inc. or get involved with our charity's activities (or do both!) The wonderful programs we're involved in are only possible with your help. Join with us today!