On April 16-19, we successfully ran TATHack, Tufts University's first Assistive Technology-themed hackathon/makeathon! We are so grateful for Cecropia Strong's partnership in organizing and planning this event with us. The seedling of this idea was planted by Julie Hahnke, a few months ago and blossomed beyond any of our expectations.
To catch everyone up, a hackathon is an event where students have a limited time to complete a project using design thinking and rapid prototyping. A total of 11 students participated in the 4-day event. Backgrounds ranged from Child Studies and Human Development to Cognitive and Brain Sciences, Engineering Psychology, Computer Science, and Mechanical Engineering. Though we are both students at Tufts, we opened the event to students at nearby universities, which helped strengthen inter-collegiate collaborations for future events like this one.
On Friday morning, all participants met with our client of the weekend, Harper. She is a very spunky 9-year-old girl with a congenital spinal cord injury. Harper is verbal and has full mobility above her collar bone. While she can raise her upper arms, she cannot effectively grasp with her hands, and she uses a powerchair for mobility in her day-to-day life. Throughout the weekend, TATHack teams designed various tools that Harper can use to do things she enjoys, including swimming, ice skating, drawing, and controlling her tablet.
Even though the meetings for TATHack were virtual, students on Tufts campus had ample opportunity and resources to facilitate their creativity and fabricate prototypes of their designs. TATHack partnered with Tufts Design for Social Good (DSG), a student organization that regularly develops user-based and human-centered solutions for marginalized and under-designed-for groups in the community.
With DSG's support, we were able to provide various fabrication materials including rubber bands, glue, tape, and Velcro. Additionally, teams were able to collaborate with student workers at the Nolop Makerspace for advanced fabrication techniques, including laser cutting, 3D printing, and soldering. Finally, Brandon Stafford, a part-time lecturer at Tufts and supervisor of Nolop, was on consult throughout the weekend to answer participants' questions about design and fabrication techniques. It was amazing to see each team's project come to life over four short days!
Faculty judges included Occupational Therapist and Professor of the Practice Jen Buxton, Mechanical Engineering/Human Factors Professor of the Practice Dan Hannon, and Mechanical Engineering Lecturer Felix Huang. These judges awarded two prizes: Most Creative Design, and Most Personalized for Harper's Needs. Additionally, Harper and her mom, Dawn, awarded a prize to Harper's favorite design.
While Harper loved all the designs and the judges were very impressed, they ultimately chose three winners.
Amelia Coffey, a Senior studying Human Factors Engineering at Tufts, created a simple stylus holder for Harper by sewing together pieces of elastic. While the one-material design was simple, Amelia implemented several personal touches, including dyeing the elastic pink, which is Harper's favorite color, and adding a snap clasp to further attach it to the hat. Because it only used elastic and no clasping mechanism to hold the stylus, it was very intuitive to use.
Most Personalized for Harper's Needs
Jessie Goober, a sophomore studying Computer Science and Engineering Psychology at Tufts, recognized that hockey was something that added fulfillment to Harper's life. Because of this, Jessie decided to build Harper directional signals so that she could further participate and have more of a competitive advantage than verbally shouting directions to the aid pushing her. Jessie had her design in mind and sought help from Brandon and Nolop employees to learn how to make it come to life. In the end, she provided Harper with two 3D-printed switches that correspond to a series of LEDs that will be visible to the sled pusher.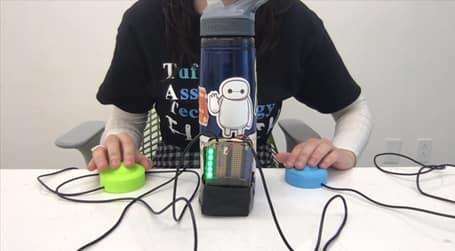 A 12-hour time difference separated these two remote students, Bob Ranalli, a sophomore studying Computer Science, and Yunxing (Frank) Hua, a sophomore studying Human Factors Engineering. Bob was in Montana, a Frank was in China. Together they created a CAD design to extend Harper's arms, specifically for when she is swimming. This device would work by extending Harper's arms when she relaxes her muscles and would allow her to bend her arms by using her flexion strength to stretch rubber bands.
It was a successful weekend for everyone
After the TATHack was over, we solicited feedback from our participants, most of whom are excited about the opportunity to participate in future Assistive Technology projects and events, such as future TATHacks. Everyone liked that there was diversity in the backgrounds of participants. Several students, in fact, reached out to us about collaborating with additional student organizations in the future to promote this diversity. All participants had a great time, learned a lot, and loved the opportunity to be hands-on and creative.
We believe TATHack was a great successs, and we hope to make this an annual event that grows every year. This hackathon was a great launch point for Cecropia Strong and its goal of involving college students in assistive technology projects. This strong start with many enthusiastic participants has given us the confidence that we have left a legacy that will continue after our graduation this May. We look forward to many TATHacks in years to come!